Texas A&M AgriLife Extension's Disaster Assessment and Recovery
Graphic and Web Design services in support of emergency response teams.
Texas A&M AgriLife Extension Service is a unique education agency with a statewide network of over 5,000 professional educators and trained volunteers and 250 designated county offices throughout the state. Reaching near and far to address local priority needs. 

Dossier of Hazard Information and Resources for DAR Agents
—
This Dossier was created as an easy-to-navigate reference with agents and their year-round coordination with officials from assigned communities. For simplicity, the Dossier was divided into a few main chapters - Maps, Partner Agency Directories, Grants Available, and Next Steps For Communities. Offering higher-level aid to an agent's district and expediting the connections necessary for communities to become more resilient.
DAR Logo Design (2021–2023)
—

I delivered a temporary logo as a first visual acknowledgement for the entire DAR program's brand to be implemented into documents, presentations, printed collateral, and even field gear. First requested by Associate Professor and Unit Director, Dr. Monty Dozier to have a rounded concept that will fit onto the face of challenge coins. The logo still had to abide by Texas A&M AgriLife branding elements (color and typography), but the adaptation still gained recognition and favor by agents and leadership alike.
Featured in an introductory presentation slide for DAR Agent orientation in College Station, TX.
Texas EDEN WordPress Website
—

The Extension Disaster Education Network (EDEN) - Texas Chapter is a collaborative network dedicated to educating citizens about disaster mitigation, preparedness, and response. Another website I greatly contributed graphic production and general CMS maintenance to before a merger with our DAR unit and a new WordPress theme issued by Texas A&M AgriLife.
Double-sided Business Cards for DAR Agents and Staff
—

Featuring the logo of a mapping software company recently acquired by our unit. Includes a Spot UV finish on the back.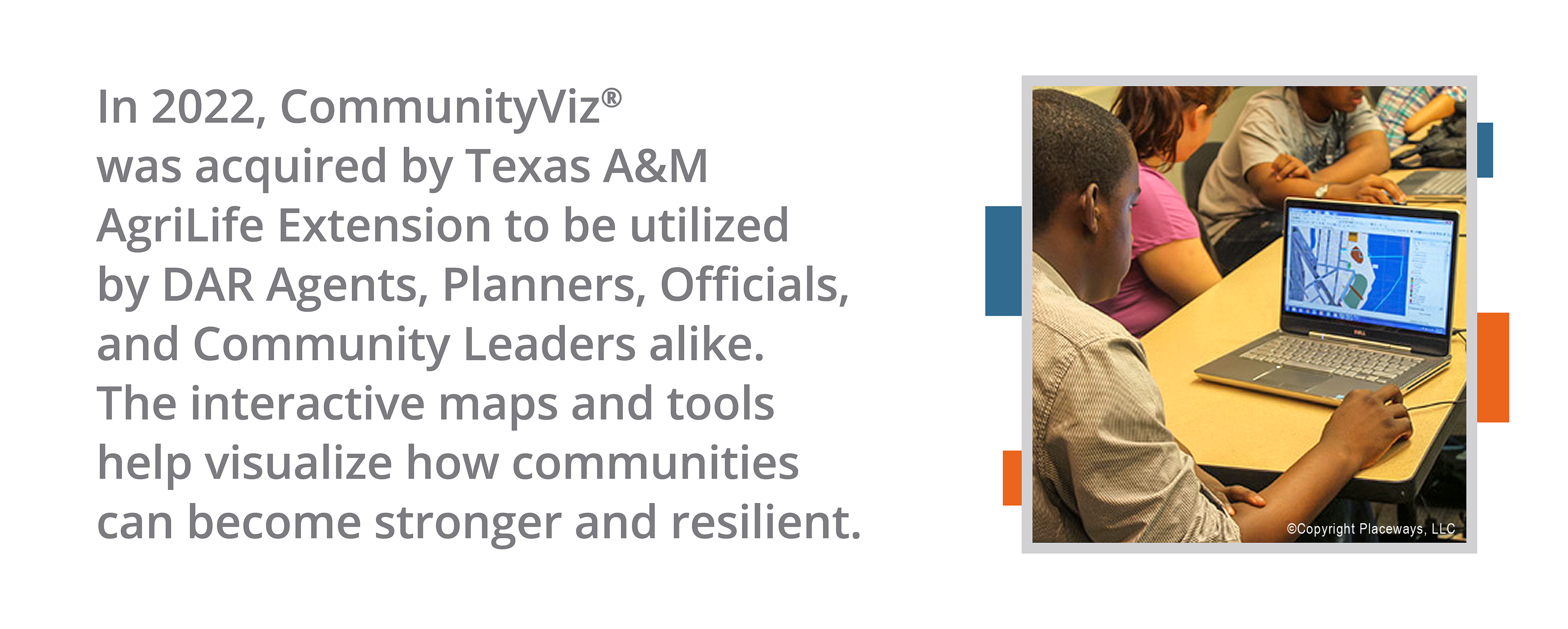 First Public Announcement at a Conference
—

We showcased our newly-acquired CommuntiyViz® mapping application at the 2023 Gulf of Mexico Alliance All Hands Meeting. Where we educated attendees about our ESRI software extension for urban analytics, how to run a data-driven map model, and insight into the future of the ownership by Texas A&M AgriLife Extension. I led design strategy sessions and orders for numerous swag, brochures, and exhibition items, including a backdrop banner with images of our workshops to be projected.
WordPress Website Design

—

After an acquisition contract provided by Texas A&M University System was approved and the transfer of ownership was complete, our product management team assessed priority changes for the website generated in WordPress. Including, but not limited to, the following edits to the overall website and page elements throughout:
•  Maintained a highly-efficient WordPress CMS to be compatible with University System regulations.

•  Utilized WordPress plug-ins for digital asset management and .exe version control for users to download software.

•  Improved font size, font contrast, font color, button color, and background colors to be compliant with AA accessibility standards.

•  Website image legacy and retained a familiar navigation for existing users.

•  Innovated a more optimal FAQ support system for users.

•  Relocated next step buttons and hyperlinks into their own Call-to-Action areas.

•  Removed unnecessary presets for highlighted text.

•  Removed logo/brand redundancy.

•  More edits for the website are continually assessed and applied.
A noticeable 82% increase in website traffic occurred within 2 months of acquisition, following the announcement to current CommunityViz® license holders and other interested parties.